Smarten-up your inbox!
Sign-up for exclusive discounts & more brain-worthy stuff!
Because life can be stressful, and our mental and physical health needs more support than ever. Containing the amino acid L-Theanine with Magnesium Citrate, an essential mineral for overall health and nervous system function, CALM gummies give you a delicious and easy way to better cope with stress, reduce anxiety and induce a feeling of calm. Enjoy daily or as needed to feel a greater sense of ease as you take on life's challenges.
Banana Blueberry Smoothie Flavour
Regular price
Sale price
$22.99 CAD
Unit price
per
Sale
Sold out
View full details
Free U.S shipping for orders over $59.99

45-Day Money Back Guarantee*
What they do

Support relaxation and promote a state of calm.

Help to regulate concentration, mood and alertness.
Aid in cardiovascular health, bone health and muscle repair.
What's inside
L-Theanine
An amino acid that supports dopamine and serotonin levels, positively supporting mood, emotions and cortisol.
Magnesium Citrate
Helps support bone health, cardiovascular function, muscles and nerve health.
Natural Flavour
Soothing natural berry flavour including beet root juice, blueberry and banana with no added artificial sugars or sweeteners.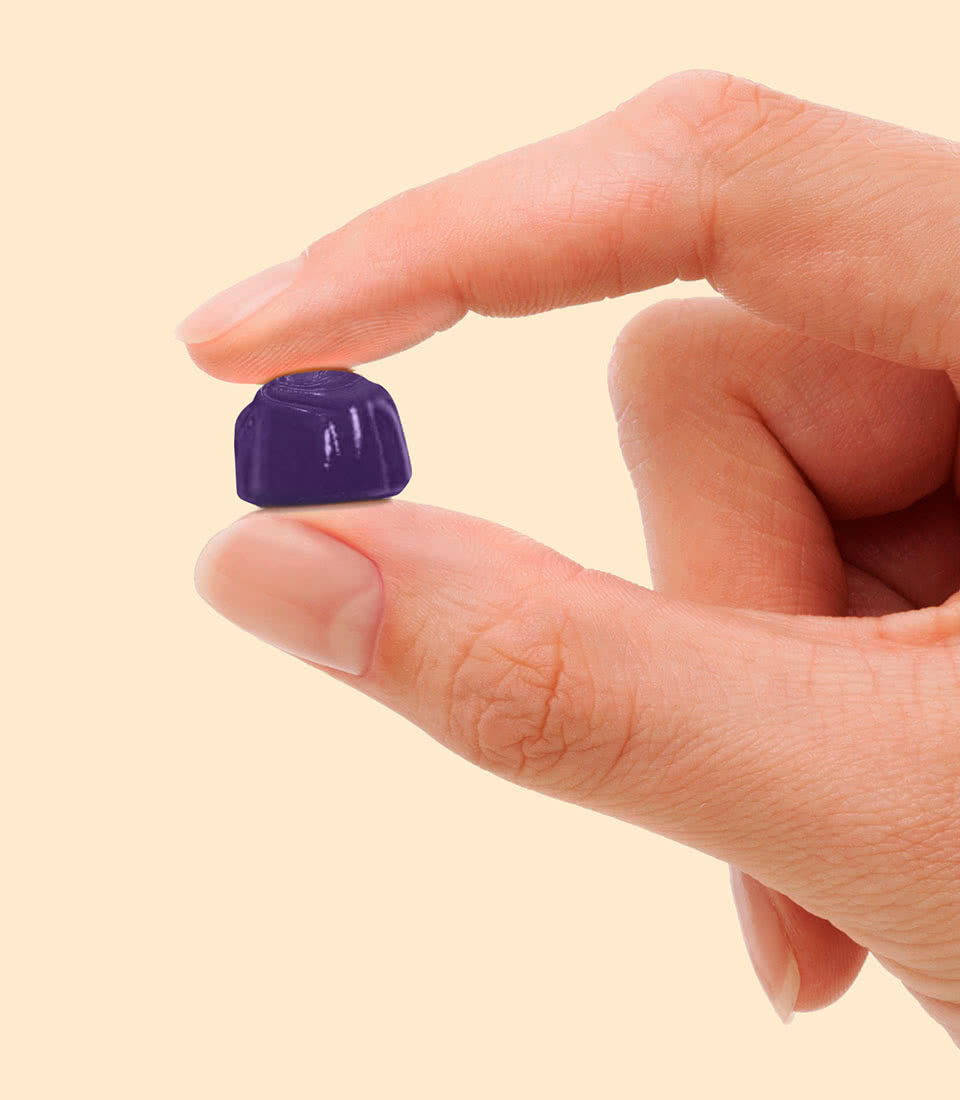 How to take
Take 4 gummies daily, particularly during periods of stress or when you are seeking soothing relaxation.
Super Smart Ingredients
No artificial sweeteners, fillers, or questionable ingredients.

Vegan friendly ingredients suitable for all diets.

Made without gelatin, gluten, dairy, corn or soy.
Designed for Performance
Synergistic nutrients to support nervous system for better calm.

Helps lower cortisol, reduce harmful effects of stress.

Can be enjoy daily with no harmful effects.
Faqs
Why is L-Theanine important?

L-Theanine is an amino acid naturally found in green tea, black tea, and certain types of mushrooms. Studies show L-Theanine affects certain chemicals in the brain including serotonin and dopamine which influence mood, emotions, sleep and cortisol. A change in the balance of these chemicals can change a person's mood or stress levels. By supplementing with L-Theanine, your body (and brain) receives natural support to help maintain balance and mood, especially when under stress.
Will CALM gummies make me sleepy?

While these gummies do promote a sense of relaxation, they will not cause sleepiness upon taking. But rather the L-Theanine combined with Magnesium Citrate will help you fall asleep faster and easier at bedtime.
Are these gummies gluten-free and vegan?

Yes they are! Unlike other gummies, ours do not contain animal by-products nor do they contain gluten or other common allergens.
What kind of sweeteners are contained in CALM gummies?

Free of artificial sweeteners, our gummies contain natural sources including tapioca syrup and organic cane sugar along with monk fruit extract - a natural sweetener very low in calories and does not spike blood sugar levels.
Can CALM be taken with other supplements containing Magnesium?

Yes, you can enjoy these gummies during the day, and take another Magnesium supplement in the evening if you wish. Up to 500mg of Magnesium has been shown to be safe and effective.
Are CALM gummies safe for children to take?

While the ingredients contained in CALM gummies are safe and natural, you are best to check with your health care provider or practitioner before giving them to children under 16 years.
When is the best time to take these gummies?

It's entirely your choice however if you are under stress and/or feel your body and mind needs some soothing relief, enjoy 1-2 gummies morning, afternoon or night.
Can I take too many gummies in one day?

To reap the benefits of these gummies, you're best to enjoy up to 2 per day. If you feel you need more support however, you can take 1-2 more.
How do CALM gummies taste?

They have a delicious natural, soothing berry flavour due to the addition of beet root juice, blueberry and banana with no artificial sugars or sweeteners.